Company Biography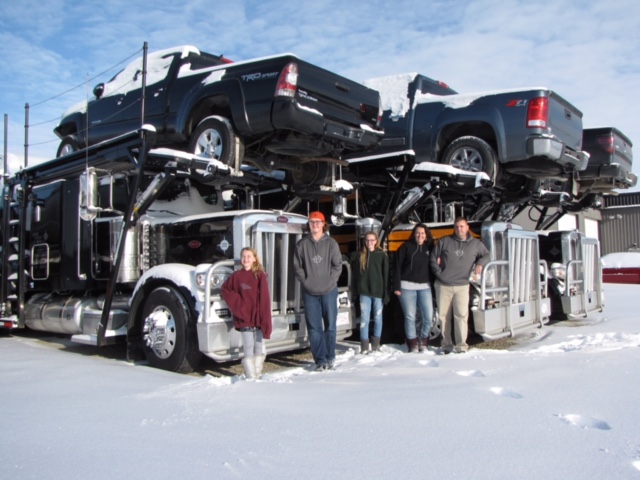 Western Trade Winds Ltd. was incorporated in October 1998.
Western Trade Winds Ltd. is based out of Lethbridge and is managed by the company's directors, J.D. & Peggy Gibb. The company first hauled vehicles from Canada to the United States of America, but after 9/11 in New York City, NY, USA, and the US dollar dropping in value, WTW now hauls vehicles from the United States of America to Canada.
WTW operate safety approved Truck Sleepers, car haulers, and flat deck trailers in Western Canada and Western U.S.A.
From 2004 - 2011, WTW specialized in hauling agricultural products.
Since 2009, WTW has specialized in hauling items/products on flat deck trailers.
We continue to haul vehicles both directions between Canada and U.S.A.
WTW is operated as a Small Employer with 20 full-time truck drivers, and 4 office personnel.
Since 2017 we have acquired low profile step triaxle, stepdecks and triaxle double drop RGN for all your equipment transportation needs.
Our fleets have helped Western Trade Winds Ltd. advance, improve and maintain the business that it is today!
We hope to hear from you on hauling your next load, of whatever it may be!
Update: 2017
Western Trade Winds Ltd. has increased in fleet size to 22 trucks and are now moving vehicles from Canada to the U.S.A.. We have 2 trucks that are flat decks but of course still haul vehicles south. We have 2 trucks that are Canada only which collect the vehicles into our yards in Lethbridge, Alberta to be moved south by the other 18 trucks (4 stinger units, 14 high mount units). Our full time employees consist of 22 drivers, 5 office personnel, 2 mechanics and 11 part time drivers.
21 Years Later...
There's a reason why customers have trusted us with their logistical needs for the last 21 years. They take pride and comfort that their transport load will be handled with care and will arrive to its destination on-time.
Transport Safety
We have very thorough process that ensure that your load and our drivers stays safe.
They are required: to have a 3 year (min) written driving experience: pass a Federal DOT drug test screening, pass our in-house road test, review, acknowledge & accept our Policy & Safety Manual, and have 3 month probationary period.
Our fleet of trucks and drivers are current with the rules and polices in regards to Federal DOT, Alberta Safety & Registration, Log Book Policy, Drug testing, IFTA and so forth.
We are a member of Healthy Worker, Worker's Compensation Alberta, Northbridge Insurance, and Alberta Blue Cross.
On Time. On Budget.
We have been the trusted team to fulfill your transport needs for over 18 years. Customers choose because we focus on them. Logistics. Safety. Integrity. We are Western Trade Winds Transport Ltd.